Welcome to Creative Carpet Repair!
For professional, high quality carpet repair, please start by watching our short video.
Our Carpet Repair Services
Below are some of the most common carpet repairs we do every day. If any of these photos look familiar, we can fix your carpet, too!
After the Dog Destroyed The Carpet
After We Repaired The Carpet
Sometimes, a carpet patch you can see is a better choice than buying new carpet. In the example above, a dog was locked into a bedroom. The reason that the patched carpet looks brighter is because we took that carpet out of a closet so it looks brand new.
Whenever you patch a carpet with new, unworn or unfaded carpet, the patch will be obvious. In time, it will look better, but it will never completely match the older carpet. In the end, this Berber carpet repair saved our happy customer a LOT of money.
Below are more examples of carpet repair. The first four are carpet patching…
OMG! Bad Dog! What have you done?
After a good carpet patch.
If your dog tries to dig her way out…
Call us for your carpet repair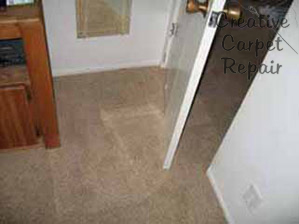 You can count on us to stretch your carpet, partch carpet, install carpet to tile transitions, repair Berber carpet runs and pulls, fix pet damaged carpet and all other types of carpet repairs.
After What's His Name walked through the living room with his work boots on.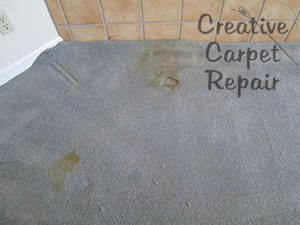 Sometimes people call us to repair a carpet because of a stain that the carpet cleaner just couldn't remove.
After our carpet repair technician went in with his slippers on and patched it.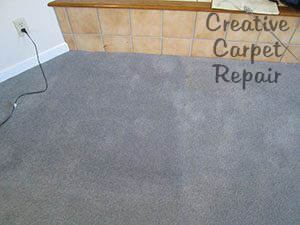 In this example, the patch worked out well though it doesn't always turn out like this. The main reason that this carpet patch is so invisible is because the original carpet and donor carpet were both relatively new.
Don't trip on that wrinkle!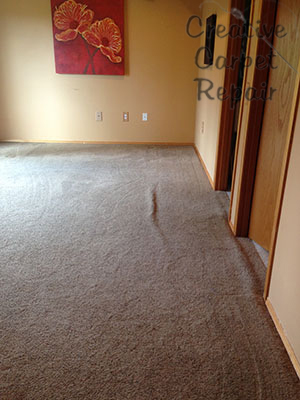 When we see a carpet with a lump in it, we think, "The original carpet installer didn't use a proper power stretcher." If this carpet had been stretched properly in the first place, it wouldn't be loose and starting to wrinkle. In our stretching loose carpet section we show you how it's done.
Ah, now isn't that better?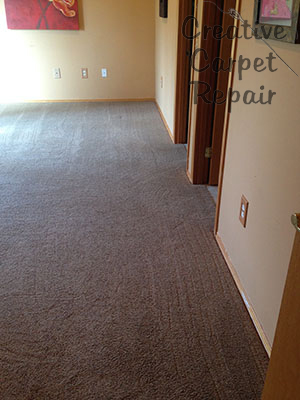 After using the power stretcher, the wrinkle is gone. (Don't you wish we had a power stretcher for crows feet?)
By the way, we back up all of our work with a 100% unlimited, unconditional lifetime labor guarantee, so if that carpet ever ripples again, we'll fix it for free!
OK, who spilled what on the bedroom floor?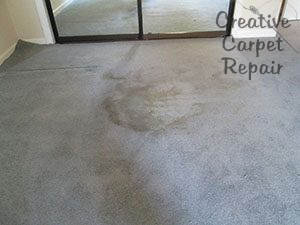 In this carpet patching example, the carpet cleaner couldn't get a truly disgusting stain out of the carpet that had soaked down into the padding. Our customer had extra carpet left over from the original installation so we were able to fix it right up.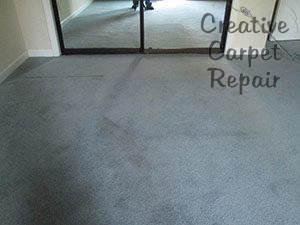 The padding and the carpet was patched here. The original carpet and the donor carpet for the patch matched quite well so it looks great.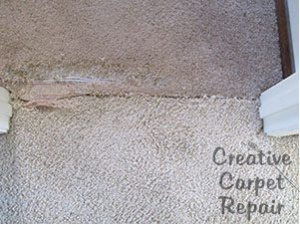 One place that often needs help is the transition area between two rooms. In the example above, a little dog got herself locked into a room. After trying to dig her way out, this is what's it looked like. We patched the darker carpet and then seamed it to the lighter carpet after removing the door.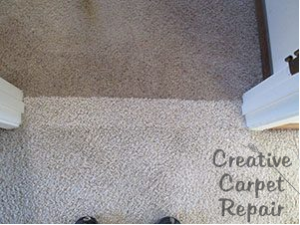 This is a perfect example of how a carpet repair can save your bacon if you're trying to get your security deposit back!
How can we ever have the neighbors over?
Sometimes the edge of the carpet becomes threadbare and worn out. If we are going to fix this without installing a patch, we will need to stretch it. It's not always possible to stretch carpet enough to solve this problem.
Step One: Install the tack strip
When we stretch carpet more than a very small amount using the power stretcher, it puts a lot of stress on the tack strip which is the piece of wood you see above with tacks that hold the carpet in place.
Step Two: Lay the carpet back down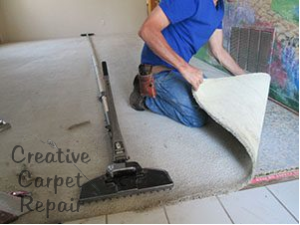 Stretching a carpet doesn't happen in one small spot, no, we really do need to stretch across the entire room. The power stretcher butts up against the opposite wall and uses leverage that's far more powerful than simply using a knee kicker.
OK, call the neighbors! Party's on!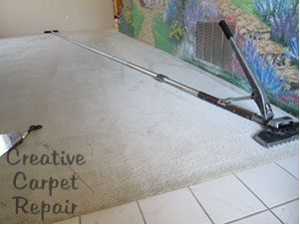 The handle of the power stretcher is just as long as the handle of the jack that I use to jack up my truck. That's how powerful it is.
If it's possible to fix a carpet by stretching rather than patching, it's a far better option.
In this commercial environment, the seam deteriorated due to wear and cleaning. There's no way to match this carpet. Even though we had the exact same carpet, it was new and the old carpet was faded. It would have looked terrible.
Step One: Get complimentary color carpet
Rather than installing an incredibly visible patch all the way across the room with new carpet mismatching the old carpet, we found a completely different color and made it look like a decorative strip.
Step Two: Cut new carpet to fit
Here we are sealing the seam. Often times when a seam doesn't last it's because it wasn't sealed properly to begin with.
Creativity trumps wear and tear! Success!
Once the new, complimentary colored carpet is laid down and installed, this customer got nothing but rave reviews.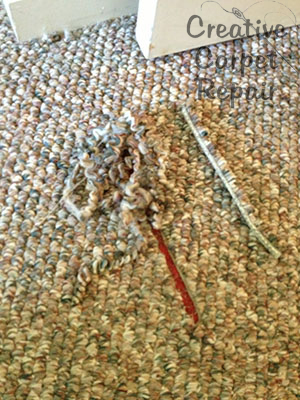 It's so disappointing when your new Berber carpet gets a run or a pull in it. This happened because a dog got his claw caught (poor pooch). We get calls for this type of Berber carpet repair quite often.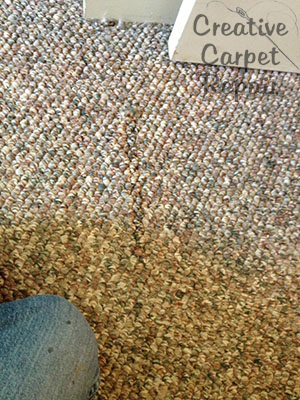 Yes, you can see the area that we repaired. This is because it's nearly impossible to patch a Berber carpet so that it's completely invisibly. This repair actually looks about as good as we can hope for.
Does your car have carpeting that has seen better days?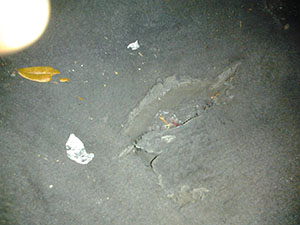 Here's an example of what we can do for the carpet in a car. If you find that you need the carpet in your car replaced or patched and you remove the seats and anything else in the way, we can perform the installation for you.
So much nicer to drive to gramma's house now, don't you think?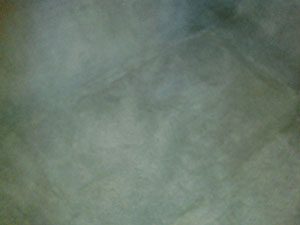 Our customer provided us with the carpet, removed the seats and we did the rest.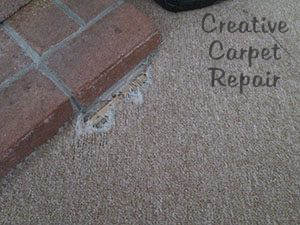 Short nap carpet can be tough to patch invisibly. In the carpet patching example above, of it was necessary due to pet damage.
Isn't this better than declaring Fluffy?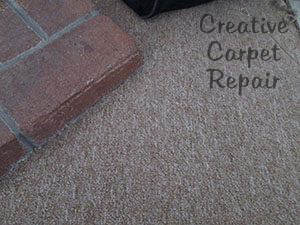 You can't easily see the patch in this picture, however, you can see it in person. It's a LOT better than before.
Did Bless His Heart try to fix his own carpet?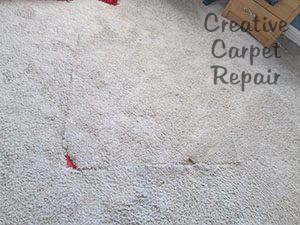 The carpet patching example above resulted when Mr. Homeowner tried to fix it himself, bless his heart. When Mrs. Homeowner came home, however, she called us to come do it over. In Mr. Homeowners defense, he couldn't possibly do this job correctly without the right tools no matter how handy he is.
We're happy to make it all better again.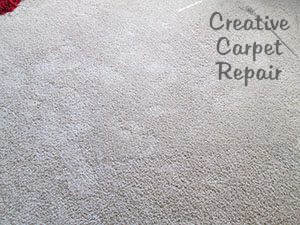 Patching your own carpet takes skill and the right tools. While it's tempting to try to fix it yourself and save a few bucks, our experience has shown (from fixing a lot of 'do it yourself' patches) that it's just better to let us experts fix that carpet.
Carpet wrinkles make a room look so..well, not nice.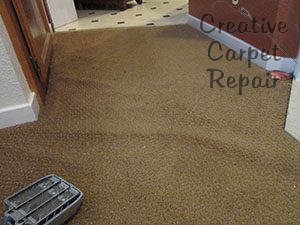 If this carpet had been installed correctly with a power stretcher, this situation never would have occurred. If you have a problem with a loose carpet, call us and we'll get you fixed up right quick!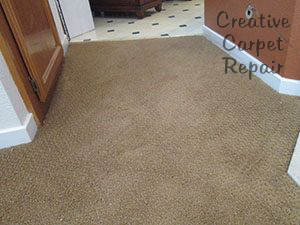 This job was simple, however, if the customer hadn't had it taken care of, the carpet would have continued to wrinkle and buckle and eventually would have been ruined. It's better to take care of the wrinkle now than replace the carpet later.
Carpet transition needing a place to happen
This carpet to floor transition repair leading into a laundry room was necessary because the carpet was wearing out at the edge. It's common for this area to wear out many years before the rest of the carpet.
Rather than stretching or patching the carpet, the customer chose to have us install a rubber strip here. I think it was a great choice. Normally you find this option in commercial environments.
Remodeling makes carpet repair necessary
Now where did you move that bar?
In the short videos below I explain what you need to know about: