Before
&

After Carpet Stretching Examples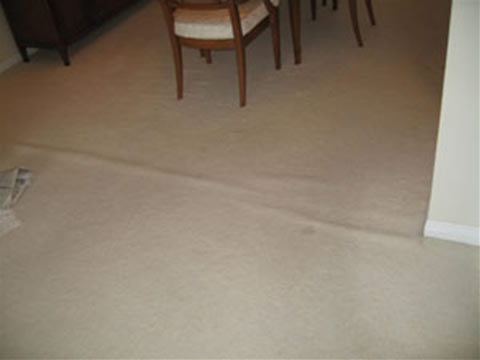 This carpet stretch job carpet is in a mobile home. It's a beautiful light cream color. The only problem is the wave running all the way across the room. A good carpet stretching will fix this room right up. When we stretch carpet, the carpet normally only needs to be stretched one direction.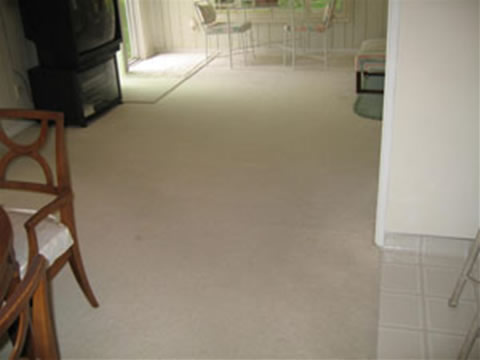 This particular carpet stretching job was a major challenge because the loose carpet was stiff and stubborn. Even with the power carpet stretcher it was difficult. After several stretches I finally got it right. It looks perfect now. When you want to stretch carpet give us a call!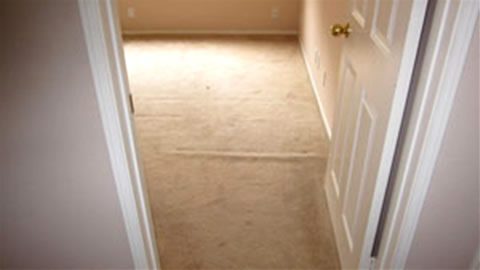 A small carpet wrinkle in a bedroom ruins the look of the room. It's a small carpet ripple now but if left unfixed it will become a large carpet ripple.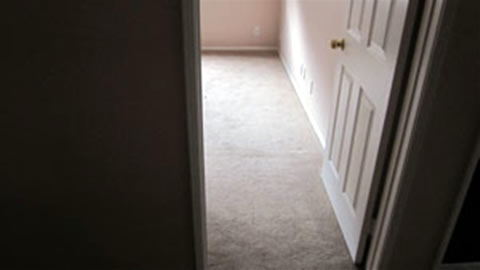 The lighting changed while I was stretching this carpet but you can still see that the loose carpet is now tight.
To keep your carpet looking it's best, a good carpet stretch when it has carpet bubbles is the best thing to do.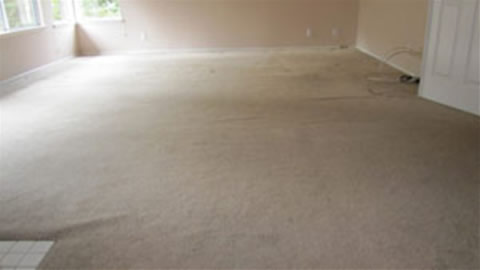 This room needed carpet stretching in several places, you can see the video above how to stretch carpet.
In a large room with loose carpet we stretch it with a carpet stretcher. Knee kickers aren't enough to pull carpet tight in a room this big.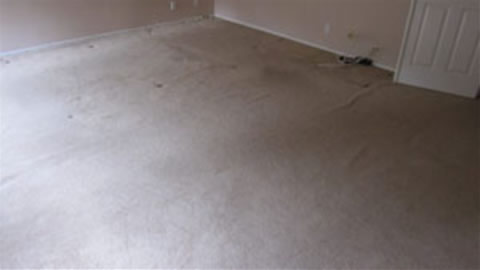 This is the same room as the above picture. Do you see the carpet ripples?
We stretch carpet every day so when you need carpet stretching give us a call!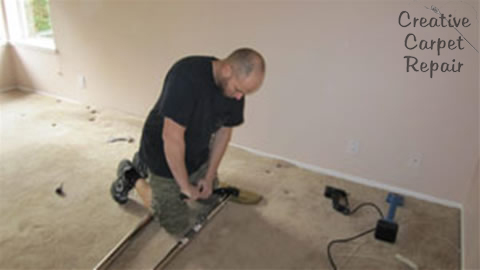 Here's Alan using the power stretcher to stretch carpet.
The power carpet stretcher is used to stretch carpet in all sizes of rooms but it's most important in large rooms.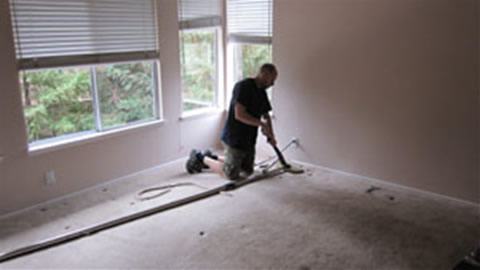 The power stretcher reaches all the way across the room. One end butts up against one wall and the other end has a head with a lever.
When we push down on the lever, the carpet is stretched. This is a very powerful tool. If we stretch the carpet too much it can rip or pull off the tack strip.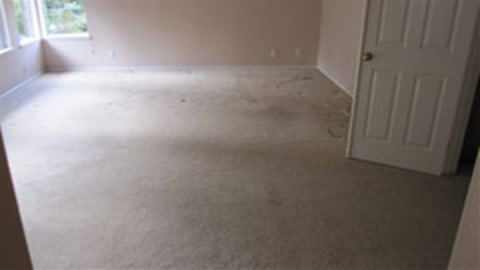 Here's a view of the carpet after stretching.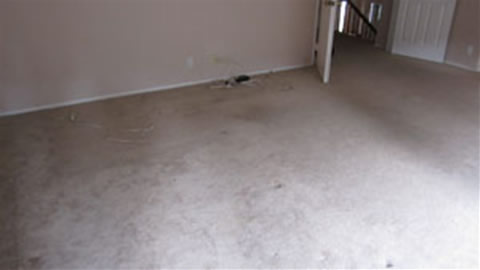 This angle shows where the ripple in the carpet used to be.
Nothing is worse for a carpet than to leave it loose. A loose carpet will get looser and more rippled very quickly. When we stretch carpet we help it last far longer.
How Steve Gordon brought his small town carpet repair work ethic to a national audience
"More than 30 years ago, at the ripe old age of 16, I started my career as a carpet installer's helper. The carpet repairmen I worked with were very tough guys. They could carry huge amounts of carpet on their backs, and have it installed in no time. They had decades of experience with many different kinds of flooring. They were so powerful, the customer's house would shake every time they'd kick the carpet in with their knees."
"Back then, my legs, knees and back weren't very powerful. My skinny body couldn't carry the carpet the way the carpet guys could, and I didn't have the strength to kick it in tight enough. Because of my inability to keep up with the rest of the carpet crew, my boss made me take care of the little stuff. This included fixing all the mistakes left behind by the (real) carpet guys."
"Eventually, I grew up and became much stronger. By that time, I had a reputation in the area as being the go-to guy for carpet repairs, including carpet stretching, carpet patching, etc. Today, more than three decades later, we can fix virtually any type of carpet problem. We can usually fix carpeting that others consider to be completely ruined."
"After hearing so many nightmare stories about other carpet repair businesses from my customers, I sat down to figure out what set me apart. What I figured out was pretty simple: People are sick and tired of being jerked around. They just want an honest estimate, a fair price, and quality workmanship. They want the carpet repair guy they hired to answer the phone, and they want them to back up their work if something goes wrong."
"These were the concepts I brought to Creative Carpet Repair. I hand-select all of my contractors, and demand that they maintain these same ethics. We provide our carpet stretching contractors with a lot of work, so they stand to lose a lot of business if they fail to follow our strict guidelines. Can you say the same of some unknown local carpet repair guy?"
The advantages of choosing our carpet stretching experts instead of a local contractor
Steve's concepts became the core philosophy of Creative Carpet Repair. This revolutionary approach to customer care eliminates the risk and hassle of dealing with most carpet stretching businesses. Here's how it works:
Step 1: Give us a call. When you call our office during business hours, a customer service representative will answer the phone. If you call during non-operational hours, we will return your call. No customer is ever forgotten or neglected.
Step 2: Explain your problem and get a reliable in-range estimate. If you're calling about carpet stretching, explain the issue, the number of rooms that need attention, and their size. Our agent will likely want to gather additional information to provide you with an accurate in-range cost estimate. Some stretching jobs end up being at the low end of this range, and others end up at the high end, but you won't have to worry about any bait and switch tactics because you are never obligated to take the next step. We supply you with honest expectations, which is how we eliminate unwanted surprises.
Step 3: Dispatching a repair expert. If you approve the in-range estimate, one of our professional dispatchers will contact one of our licensed, bonded, and insured carpet repair experts. This contractor will quickly contact you to arrange a visit to your home. If time is of the essence, we will happily work with you to set a deadline for the completion of your carpet stretching or repair. We follow up with every carpet repair contractor to ensure they've been in touch with you, ensuring no customer ever falls through the cracks.
Every one of our carpet stretching contractors is hand-selected by Steve Gordon, and part of nationwide team. Each is thoroughly vetted, and must have at least 10 years of carpet repair experience. Only the best, most trustworthy carpet repair experts work for Creative Carpet Repair. You never have to worry about the quality of their workmanship, and you can have confidence that the person you're inviting into your home has proven moral fiber.
Step 4: Your in-home visit. Our carpet stretching expert will come to your home at the scheduled time, review the scope of the job with their own eyes, and then provide you with a firm price. This estimate will fall within the in-range estimate you got over the phone.
We prove our commitment to you by coming to your home for free, so we only ask that you allow us to conserve our time and resources by stretching your carpet on the first visit. We are in this together, and we want to earn your trust by fully guaranteeing the work.
If you choose not to do the repair, our carpet stretching contractor won't bully or pressure you in any way. They will simply walk out the door. This approach to customer care is a win/win for you, because you have all of the power.
Step 5: Finishing the work. Once approved, all carpet repair work will be done quickly and efficiently. We maintain competetive pricing on all of our work. Stretching loose and wrinkled carpet gives it a newer appearance and can save you a fortune when compared to replacement. If any problems with the work arise, simply give us a call and we will send the carpet repair contractor back out to your home at no cost to you.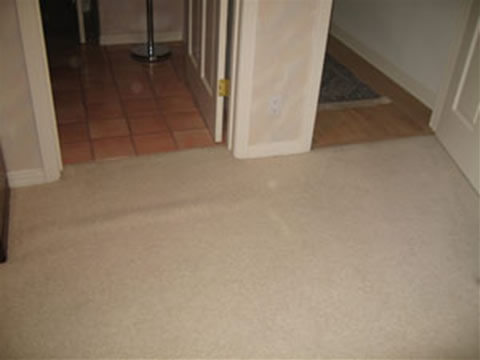 This is a master bedroom with a couple of nasty wrinkles in it. It's especially important to repair this carpet by pulling the wrinkles out because the lady that lives there is over 80 years-old. She can't afford to trip over the carpet. This first carpet wrinkle is in front of the bathroom.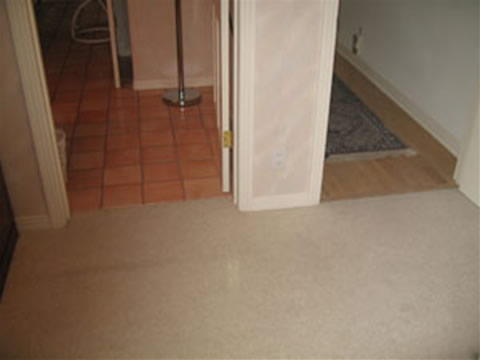 The carpet is tight here too but you can see where the wrinkle left a mark. Sometimes the top ridge of a carpet wrinkle can attract dirt. At least the carpet is now flat and safe.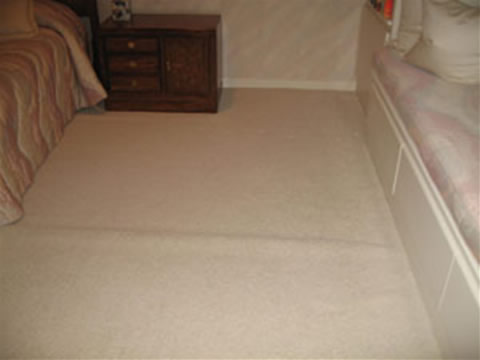 This second carpet wrinkle is between the bed and the built-in furniture.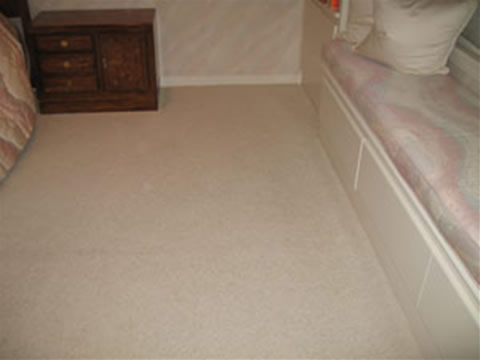 Here you can see that the carpet is now tight.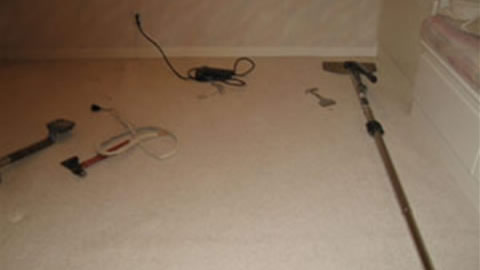 Using the pole stretcher/power stretcher, we pulled the carpet wrinkles out and then cut off the excess.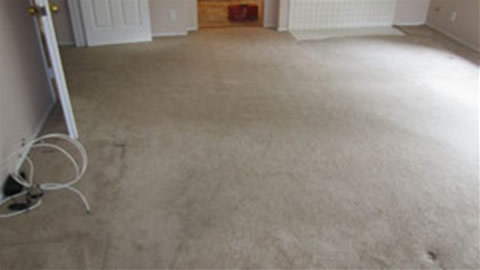 Many times a carpet will become loose due to traffic, cleaning, humidity or a bad original carpet installation. Call us for all your carpet stretching needs.